The Daphne Review's Web Art Competition
To showcase the talents of our contributors all year round, The Daphne Review is proud to offer the Web Art Competition. Our inaugural winner's work will be featured as the main banner image on all pages of The Daphne Review's website for a three month period. It will also be included in the subsequent journal issue.
Past Winners:
Betsy Jenifer, from Vellore, in the south Indian state of Tamil Nadu. Betsy is currently in her senior year at the National Institute of Open Schooling (NIOS) and will graduate in 2017.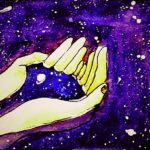 Betsy's inspiration for Dip Into the Universe: 
"A few weeks ago, I had an eerie dream in which I follow a pair of giant hands like an invisible camera. I notice that when they clap, that becomes thunder and when they wave, that made wind. I follow them around as they ruffle trees on top of mountains and pluck stars for fun. The dream immediately changed after that or maybe I just forgot. But this part alone I remembered after waking up. I guess I decided then to paint something similar to that dream since it stood out so much in my mind because of its almost grotesquely fantastic creativity."
Thanks for sharing your work with us, Betsy! We are excited to feature such an inspiration work as our web art feature for the coming months.
Want your work to be featured next? Submit one (or several!) works using the submission form below to be considered for our next Web Art Competition.
Submission Guidelines:
We will accept any submissions that are:
by artists ages 13-18
Original and unpublished works of art of which you are the sole author
In a two-dimensional media (e.g., painting, drawing, collage, photography, etc.)
Free of text or slogans
High resolution files
Sent along with a completed Web Art Competition Submission form (complete either the form below for online submission or download this Web Art Competition Submission Form)
Please send art submission file directly to alexis@thedaphnereview.org
Submissions and questions are accepted via email to our editorial team through 30 November 2016.  Click here for more details on how to submit your work. Please send all submissions with the email subject line "Web Art Competition."